Blog
Our Favourite Tips and Tricks for Presenting with Mural
Sixty Second Summary
When presenting Workshops, Meet-ups and Remote Design Sprints, Mural is our tool of choice for introducing activity in to the session, helping us to keep everyone engaged. Since we started using Mural earlier this year, we've learned a few things that I'd like to share with you about how to best use Mural when presenting, especially if using a tool like Zoom as part of the presentation.
Full Article - 5 Minute Read
Split Your Activities Across Multiple Mural Boards
When you have lots of people taking part in the same activity, any system is going to have a problem with consistently rendering and displaying everything, and that's no different with Mural. We've found that when you put together two or three activities into the same Mural board and through 30 or more people at it, you're going to have a problem with lag, clicks not being detected, or elements ending up in the wrong place.
So, our first tip for anyone new to using Mural is to split your activities across multiple Mural boards. By doing this, you give yourself a few advantages that you don't have when it comes to lumping them all into one board. These advantages include:
Create Templates More Easily
When each activity is on its own Mural board, you can more easily turn that activity into a template for use in the future. This means you don't have to spend time recreating or copying and pasting the activity every time, you just create a new Mural from the template acitvity and you're ready to go.
Keep People Focused
With fewer activities on each board, there are fewer things to distract your attendees or participants, and fewer places for them to get lost or end up working on the wrong activity. As long a everyone is on the latest Mural in the set, you'll know they're focused on the activity you're going through right now.
Improved Mural Performance
We've found that a Mural board full of activities, people and responses will soon crawl to a stop. Clicks won't be responded to, and then all of a sudden a dozen post-its appear in the same place. Or certain elements won't unhide for everyone. Or there will be those who can't participate in voting. Or the board just won't load for some people at all.
By splitting your activities across multiple boards, you improve the performance of each Mural, so you're much less likely to experience problems during your workshop.
Sign up to our Mailing List for more Insights and Resources
Our monthly Mailing List is the place to be for the latest insights and resources on Design Thinking, Design Strategy and Remote Design Sprints. It's also a great way to stay up to date with The Familiar and find out what we've been up to.
Share Your Screen
If you're using a Mural as part of a remote session, especially a meetup, you can't be certain that everyone is logging on using a device that's capable of running Mural (or capabale of running it well). For example, some people may have to join the meetup from a smartphone or tablet, where the Mural experience may not be great, or they would rather focus on the call than the board. For these occasions, and therefore on all occasions, it makes sense that you share your screen with the call, so that everyone can see what's going on, even if they can't properly interact.
Turn Off Cursors
When you're viewing a Mural, it's normal to see everyone else's cursors zooming around as they work on the tasks you've given them. You feel like a queen bee surveying all your workers as they busy around the hive. But, if you're watching a Mural through a screenshare, these busy cursors can soon become a distraction. So, when you're sharing your screen with others, make sure you click on your icon at the bottom of the Mural participants panel and click/tap "Hide cursors".
Check Your Tabs
Always check your tabs or windows before going live with a screen share. Is there something in a tab or window that you shouldn't be sharing? Is there something you'd like to keep as a secret for later? Then you need to make sure they're not on the screen share. When using Zoom, and many other conferencing tools, you can select which exact window you want to share with people. So, make sure that you put your Mural board(s) for this session into that window, and use that for sharing.
Keep The Share Live
For those who can't open the Mural board for whetever reason, there's nothing more annoying than a screen share that keeps starting and stopping. If you're not able to keep the screen share live, maybe because you need to access a script or other resource at the same time and have limited display real estate, have a producer or co-host available who can keep the screen share live for the whole session. If you don't have one of these, ask someone in the call if they're willing to take on that role.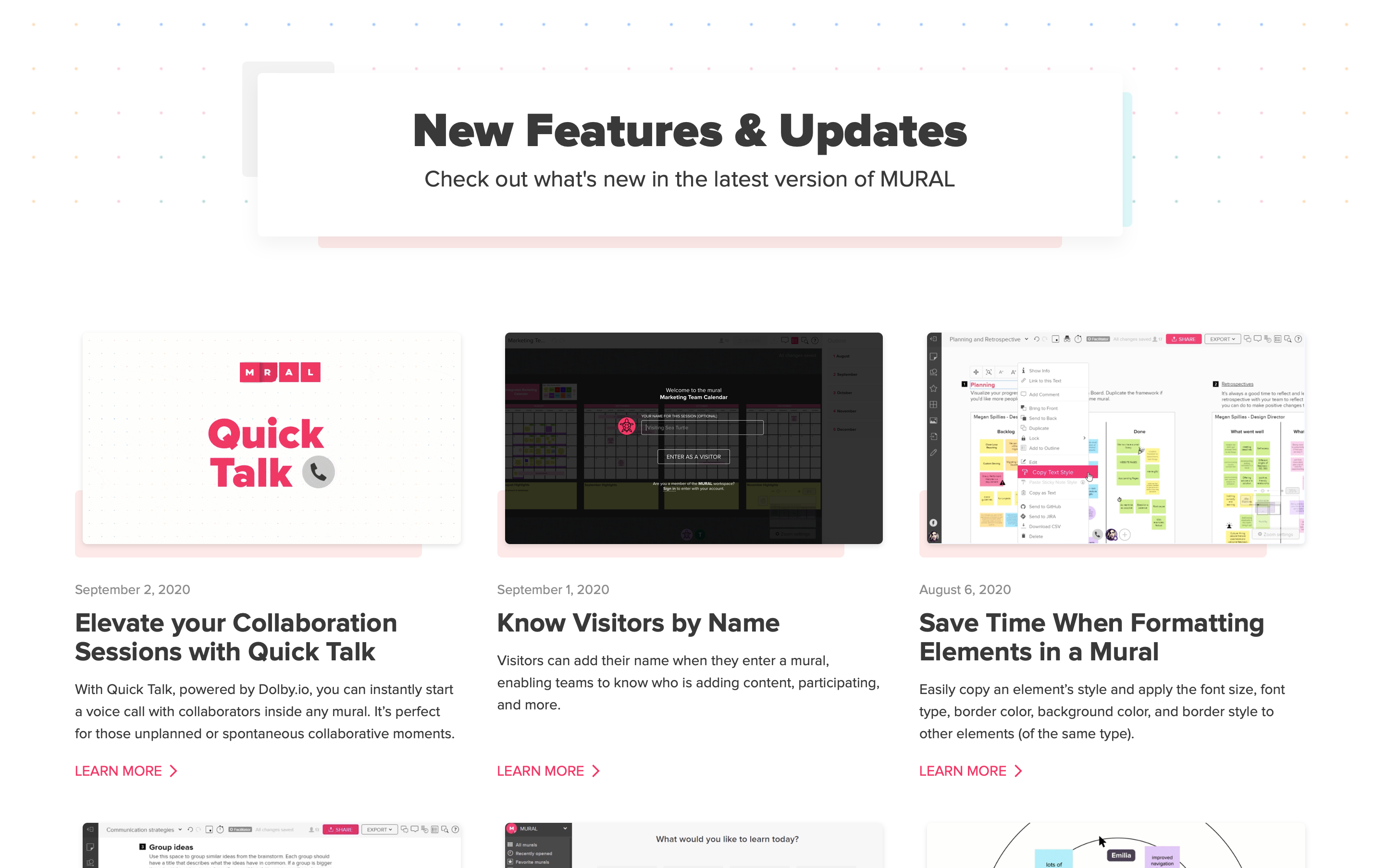 Keep Up to Date with New Features
As a piece of online software, Mural is always being updated. And you may not always get an email or notification to make you aware of a change, especially if it's something Mural is testing. When you log in, give your board a quick scan for any new features you might notice, and then try them out to see if they'll fit into your workshopping flow.
Voice Calls
A recent addition to Mural is Voice Calls, allowing you to launch a call directly from the website. With a click of this button, everyone in the Mural can take part in a quick voice call to discuss what's going on.
Comments
By right-clicking on anywhere on a Mural board you can now add a comment, which can be a great way to get feedback from your workshop participants. Comments appear as dots on the Mural canvas, so they're not confused with anything else you'll be using to run your workshop, and they can contain a threaded conversation of replies, making them very useful.
Private Mode
Very new to Mural is "Private Mode". Acccording to the tooltip, "During Private Mode, content created or edited by others will be hidden. Only you will see content you add or edit. All content will be visible for everyone when you end Private Mode." This tool can be very useful in workshops when you want people to work on ideas or an activity on their own, without others being able to see what they're doing. Before, this would have meant people doing stuff with pen and paper, but now all the work an be done in Mural and then revealed when ready.
Use Templates
When you're busy delivering workshops, meetups and Design Sprints, the last thing you want to be doing is starting with a blank Mural canvas everytime. That's where Templates come in.
You can create your own templates, use ones shared by Mural, or even bring in templates made by others and found on the web. These templates contain pre-filled and pre-drawn elements that you can use in your workshops, speeding up preparation and allowing you to reuse content that you often need.
Turn Your Activities Into Templates
If you've read this whole article, then you're hopefully already planning to have each of your activities have its own Mural board. One great aspect of doing this is being able to turn each of your activities into a template, so that you can use it again in the future without having to completely reconstruct the activity from scratch or navigate around existing post-its when copying and pasting from an old board to a new one. You just spin up a new board using the template you've saved, and you're good to go.
Look Around for Templates
Have a quick search around the web and you'll find others have created and shared templates for you to use. If you're running a workshop that someone else has run before, this can mean that you create a new Mural board from their existing template, which helps you get up to speed quicker than having to do tempalte yourself. Or, you can use someone else's template as the foundation and inspiration for your own activities and workshops, adapting the template as you need.
Share Your Templates
If you've got a template you live, why not share it with the world? It's quite likely that someone else may find value in it, and it works as a great form of content marketing. For example, we'll soon be sharing some of our favourite Mural Templates over on our resources page.